About Us
When you're in Glenroy and craving pizza, stop by Nonna Rosa. The eatery offers multiple sizes and can accommodate half-and-half requests, and many easy-to-order meal deals are available. Try one of Nonna Rosa's traditional pizzas like the margherita, the mushroom, the capri, or the plain. If you'd like something besides pizza, beef and veal steaks come with four sauces, chips, and salad. Diners can order chicken and seafood entrees as well. If you'd like pasta, try the eatery's lasagna, cannelloni, or bolognese. Feel free to add salad, chips and drinks.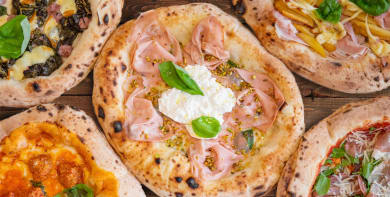 Reviews
Melissa
"Yummy pizza! Arrived hot and fresh!"
19/09/2021
Anne
"The chocolate ice cream is to die for! The jam doughnuts are to die for too"
16/06/2021
Nathan
"Bit expensive for gourmet pizzas but delicious"
11/06/2021
Marie
"They didn't provide the Tiramisu as it is off the menu but gave a substitute and also said to organise a refund via menulog. But I was happy with the chocolate and drink. Thank you Nonna Rosa."
9/06/2021
Contact Us
Find Us
169 Wheatsheaf rd, Glenroy, 3046
Opening Hours
Monday
11:00 AM - 10:00 PM
Wednesday
11:00 AM - 10:00 PM
Thursday
11:00 AM - 11:00 PM
Friday
11:00 AM - 10:00 PM
Saturday
5:00 PM - 11:00 PM
Sunday
5:00 PM - 10:00 PM
Please note, delivery times may vary.
We deliver to
3041 Strathmore, 3044 Pascoe Vale, 3046 Glenroy, 3046 Hadfield, 3046 Oak Park, 3047 Broadmeadows, 3047 Dallas, 3047 Jacana